At Robus Car and Truck Rentals have a wide range of rental cars, rental trucks, rental vans and rental buses available for hire in Parramatta, Sydney which are detailed below. Our large fleet of passenger vehicles for hire include small, intermediate and large rental cars as well as 8 and 12 seater rental buses. We also have a great selection of commercial hire vehicles like moving trucks, cargo rental vans and Interstate Truck Rental. Make sure you check out our Moving Trucks page for great information on our rental trucks and tips on relocating your home. Get a cheap car or truck rental quote now from our Sydney rental location, Robus Car and Truck Rental Parramatta, with our Quick Quote bar to the right or give us call us today on (02) 9890 9499!
Toyota Hiace (A)
1T Delivery Van Automatic - 1TAV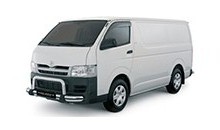 4 Cyl Automatic
2.7L Petrol
3x Passengers
Cargo Dimensions (2.8m L x 1.6m W x 1.3m H)
11.6L / 100km
Isuzu NPR (3) or Similar
3T Moving Truck & Hydraulic Lift Auto. - 3TAP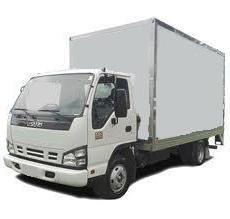 Car Licence Automatic
Diesel
3x Passengers
17 Cubic Metre Pantec
Pantec Dimensions (4.2m L x 2.0m W x 2.0m H)
Please note:
Vehicle types and features displayed are provided as a guide only and are subject to change at any time. If this occurs we will offer a similar vehicle in the same class.